If you didn't notice, we took a little break last week due to the holidays.
We're back...full speed ahead!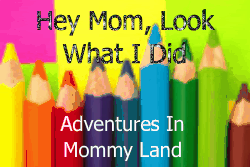 Santa brought the little boys piggy banks this year.
Target's line of Go Create
has a lot of cute things to decorate
coffee mugs
jewelry boxes
aprons
piggy banks
You can buy everything you need to create your own special art piece.
rub on transfers
stickers
paints
rhinestones
and more
The boys decided to paint their banks, but I'm guessing they will use the transfers at some point too.
I didn't take any pics of their finished pigs, because I have a feeling they aren't 'finished' yet.
That's what we did this week
How about you...
What did you do this week?
Please share your craft projects, baking activities and other fun adventures. Grab the link button and put it on your blog, if you like, so that others can share in the fun too.


Thanks for joining us....Hope to see you again soon!!
*Disclosure - I am not affliated with Target, just sharing a cute project idea with friends.