Welcome to week 13 of the Hey Mom, Look What I Did kid's activities link party.
I just love doing these and having everyone link up!!
Soooo many fun, creative ideas from such awesome bloggers.
This week Nathan and Nicholas made Snowman Mobiles.
Actually, Nicholas decided to quit and didn't finish his....the stinker!
You can make this any size...we opted for life size (more fun that way)
You will need construction paper, glue, and ribbon.
We made our's two sided...so double up on everything you cut.
Glue a ribbon to the top of the hat to hang the mobile up.
Also, glue some ribbon to the bottom of the hat and then place the other side on top.
Do the same with the rest of the pieces...we used 3 circles, a top hat and boots.
Glue a face on both sides.
Once all the pieces are glued together with the ribbon tucked inside - you can glue on a scarf and some buttons,
Make sure to add a face and scarf and buttons on both sides. I stapled the ribbon to the paper, just to reinforce the glue...it will be heavy and the glue isn't enough to hold it (especially the bigger size).
then,
That's what WE did this week...
how about you,
What did YOU do this week?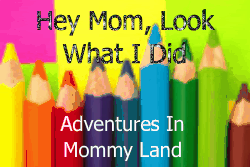 Please share your craft projects, baking activities and other fun adventures. Grab the link button and put it on your blog, if you like, so that others can share in the fun too. Also, I invite you to follow this blog via GFC, facebook and twitter..to keep up with our latest activities.

Thanks for joining us....Hope to see you again soon!!