Welcome to the third week of Hey Mom, Look What I Did!!!!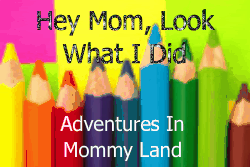 I've been so busy this week that I haven't had much time to breathe, let alone blog! But, we did manage to squeeze in a few crafts and bake a couple of batches of sugar cookies.
We made pumpkin and monster faces using craft sticks.
Easy.....Peasy......
Take some craft sticks and glue them together
Then, paint some faces on the sticks...add some yarn or a pipe cleaner to hang it with and you're done.
Nathan loves to help make sugar cookies.
His favorite part is sneaking bits of dough, when he thinks I'm not looking.
They also made some to frost and tried using stencils to decorate them.
Not exactly the neatest of cookies...but they sure were yummy and the kids had fun (that's really all that matters, in my book).
What did you do with your kiddos this week...go to a pumpkin farm and pick pumpkins, bake a delicious treat, make a craft, run through a corn maze.....
Come share and don't forget to grab that little linky code in the box so others can join us too.