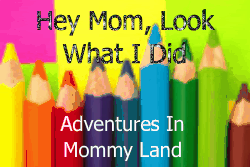 It's week 5 of this little linky......
Time to share what you did with your little ones this week.
Did you bake a treat?
Make a craft?
Paint a picture?
Go on an adventure?
Please feel free to share your fun activities with us by linking up
And spread the word....the more links, the more fun ideas we have for our own children.
**************************
What we did....
I know it's not Christmas.....
and I hate when stores and people rush holidays (especially Christmas),
but I wanted to get an idea of what the kids wanted for Christmas this year
So we made "wish lists"
These were super easy to make.
I went to Toys R Us and picked up about four of their toy catalogs
and had the kids cut out things that they liked or wanted as gifts
Then I took some green construction paper and had Sarah draw a Christmas tree on it.
Using glue sticks, they glued their items onto the tree.
Now, Santa has an idea of what the kids would like for Christmas this year.
I laughed when Nathan pointed to his tree and said
"Look at all the crap I want."
LOL!
I can think of worst things he could have said.
********************
Now, it's your turn - What did YOU do this week?