Melissa at 320 Sycamore
has this wonderful family tradition that I liked so much I thought it would be nice to make our very own family tradition as well. Every year, she wraps Christmas books (some new, some old, some borrowed) and lets the kids open one each night to read at bedtime. How awesome is that idea??
(See Nathan's Advent Chain hanging in the doorway to the right - he made that at school yesterday and couldn't wait to rip off a chain this morning).
When it comes to holidays, I love traditions. Every year, we do the traditional new jammies on Christmas Eve. The baking and crafting and all that fun stuff. Sometimes, it's hard not to go overboard with traditions, especially when you see so many great ideas that others share. But when it comes to reading and getting new books, how could I resist this one?
I didn't have very many Christmas books, so I bought a few more and I'm going to borrow a few from the library tonight while Nathan is at his story group. I can't wait to start this tonight with the kids....We already do stories at bedtime, but now we will have an extra fun treat to unwrap and share as well.
In the spirit of the holiday and seeing as today is "Pay It Forward" day (Did you know about this one? I didn't, until I saw it on facebook this morning)....I'm going to give away our new Christmas book. I participated in a children's book swap with some other bloggy moms. And I'm going to pass this book onto you.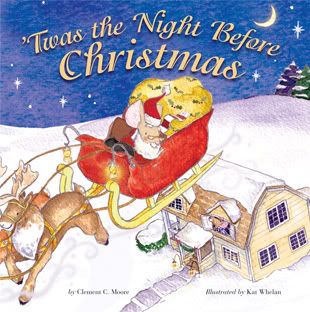 (Tiger Tales edition)
Just leave me a comment telling me your favorite Christmas book or a tradition....that's it. I'll pick a winner tonight. Leave your email with your comment so that I have a way to contact you.
Winner of the book 'Twas The Night Before Christmas (using the random number generator) is.....Stephanie!