Introducing.......
Helene
-
She's mother of two (yes, two) sets of twins. She is hysterically funny, brutally honest and living proof that life is better when it comes in two's. And that's what makes her a great Mom That Blogs!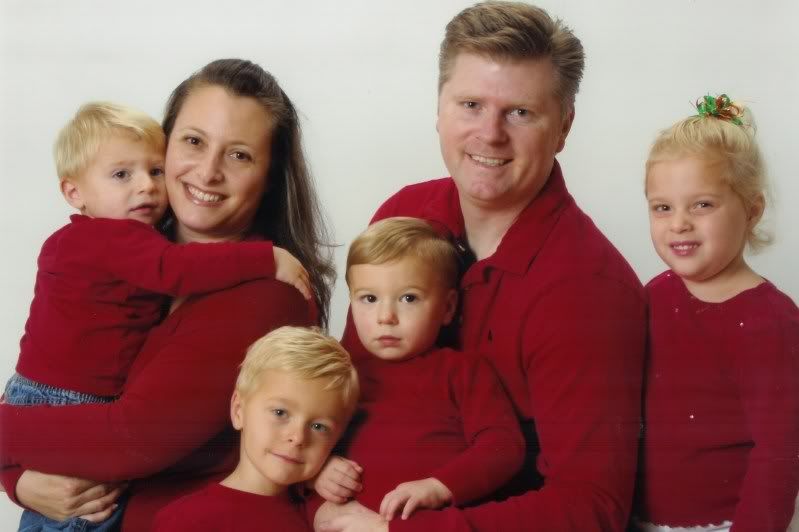 Tell us a bit about yourself.......
My family and I live in Northern CA, right smack in the middle of a valley. My husband, Tim, and I will have been married for 8 years, come this August...together a total of 15 years. Yes, that's 7 years of dating before he finally got a clue that I was "the one".
We endured 3 rounds of IVF when the 3rd time ended up being the charm and we were blessed with our 1st set of miracle twins, Cole and Bella. Our 2nd set of twins, Garrett and Landon, were a God-given miracle just 2 years later...very unexpected, especially after hearing from various doctors that I only had a 1-3% chance of conceiving a take-home baby without any medical intervention.
Prior to having children, I was a program director for a private foster family agency...finally putting my MA degree in Psychology to good use. While I thought my career was challenging yet rewarding, it didn't and still doesn't hold a candle to being a full-time SAHM...where the challenges occur hourly and it's a struggle sometimes to see the light at the end of the tunnel. With that said, it's the most rewarding and most fulfilling "job" I've ever had.
When did you first start blogging..........
I began my blog back in January 2007, when I was about 22 weeks pregnant with our 2nd set of twins.
What is your blog about..........
I write about my daily life raising multiple multiples, along with some of my thoughts on marriage, friendship and life, in general...with a whole lot of humor and sarcasm in the mix. I firmly believe that life is too short to be taken so seriously all the time. Laughter is the key to survival, my friends. And that's the truth.
Why do you blog..........
To stay sane. Seriously. Honestly, on some days my blog is my only outside connection to the world. I get my comments e-mailed to me so sometimes I'll be having the worst day and all of a sudden a few comments will roll in, making me smile and not feel so all alone in this wonderful journey called life. I also hope someday when my kids are older, I'll have my blog to share with them, which perhaps will bring them many good laughs and a better insight as to who I am as a person, aside from being a mother and a wife.
Along with that, I've discovered how passionate I am about writing. I love the creativity it brings out in me. I've been working on a book for the last 2 years, which obviously has been a very slow process but also one that I'm having a lot of fun with. My blog has opened many doors for me and I've made many amazing contacts, in terms of other writers and publishers.
Must read blogs that you visit daily..........
There are so many that I love that it would be difficult to list them all. But here are a few, depending on what you're looking for:
Favorite cooking blog -
The Newlyweds
(for all intensive purposes, it's not a cooking blog but she does share some amazing recipes!)
Favorite multiples blogs -
Twinsomnia
(her humor will KILL you),
Buried with Children
(very insightful and someone I can relate to 100%), It's
Twinsanity
(another mom with two sets of twins, plus 2 singletons...her strength and perserverance will most definitely inspire you),
Our Heart's Journey
(yet another twin mom I totally connect with, plus her boys are hysterical, as well as adorable)
Favorite craft blogs -
Two Little Monkeys
(another mom of twins posts some super fun kid crafts) and
The Toy Box Years
(her crafts are incredibly easy and very fun to do with the kids - she made the most adorable fairy garden)
Favorite travel blog -
Double the Adventure
(mom of twins who travels all over with her young twins and I've had the pleasure to meet her in person!)
And there are so many more blogs that are amazing...I have many listed on my blogroll on the left-hand sidebar of my blog.
What inspires you.......
My kids inspire me. They provide most of the blog fodder, which I write about. I've also been known to be inspired by a chilled glass of wine (or three).
Do you have any blogging advice that you would like to share........
My best advice for anyone looking to grow their blog is they have to be willing to put themselves out there...comment on other blogs, follow blogs that you enjoy, link to favorite blogs on your blog, participate in carnivals and memes. The blogosphere is an incredible place to meet others with whom you'll connect with on so many various levels but it takes effort to sustain, just like everything else in life! Most of all, have fun with it...and keep it REAL!
You can read more about Helene by checking out her blog at
I'm Living Proof That God Has a Sense of Humor
. Click
HERE
to read one of my most recent favorites by Helene.