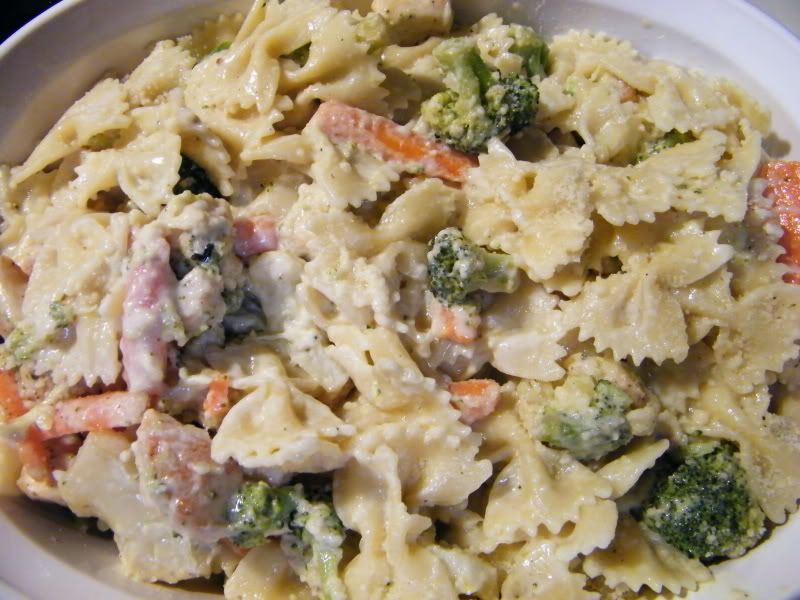 Ingredients:
1 1/2 pound chicken breasts cut up in bite size pieces
2 cloves of garlic, minced
Olive Oil
*Roughly Measured*
1 small zucchini (or about a cup) cut into strips
1 cup of fresh cut broccoli
1 cup of fresh cut cauliflower
1 cup of carrots cut into strips
1 box of Farfelle pasta (bowties) - you can use half the box if you have a smaller family or the whole box, if you want leftovers.
2 1/2 cups heavy whipping cream
2 1/2 cups Parmesan cheese
salt
pepper
*You can cut back all the ingredients if you need to. If you want to cut back the cream and cheese, you can cut it back to 1 1/2 cups or even less (for half a box of pasta). I like my pasta to stay creamy, so I add the whole amount. You can also add whatever vegetables or pasta you like (peppers, etc.) This recipe is pretty adaptable. I hope everyone can understand what I'm saying...it's hard when you don't measure things and then try to write it down for other people to follow.
Directions:
In a large skillet cook the chicken and garlic in the olive oil, until the chicken is no longer pink. When it's done cooking, add the vegetables and cook over medium low heat until the veggies are tender.
While that is cooking, make the pasta.
Add the cream to the chicken and veggies when the vegetables are tender. Cook and stir until the pasta is done (drain the pasta). Add the pasta to the chicken and vegetable mix. Stir in Parmesan cheese and add salt and pepper to taste.
Super Easy and Extremely Yummy!
*Linking to Follow Me Back Tuesday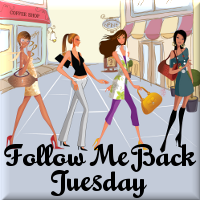 And Tuesday Tag Along