Introducing......
Deirdre - She's a former teacher turned stay at home mom of one adorable little boy. She's creative and fun and does lots of awesome giveaways. And that's what makes her a great Mom That Blogs.
Tell us a bit about yourself.....
After living the first four decades of my life living in a suburb of Washington, D.C, I now live in a suburb of Greenville, South Carolina. I am the only female living in a home surrounded by males named Joseph Daniel or as I call them on the blog JDaniels. My wonderful husband of four and half years is JDaniel3. The vivacious and ever persistent three year old in my life is my son JDaniel4.

When I was single I traveled to Europe, Africa, and over half the United States. It was great to explore new places and meet new people. I think that all that travel helped prepare me to live in place that is populated by transplants from all over the world. Most of my friends here are from outside of the Greenville area.

My mom and dad instilled in my sisters and me a love of reading. It permeated every area of my teaching when I worked as a classroom teacher and technology specialist. Books helped my students develop a foundation for learning. I now host a Friday meme called Read.Explore.Learn that celebrates reading to children and exploring the concepts read about in books.
When did you first start blogging......I started blogging in the summer of 2009. It doesn't really seem like
it was that long ago. Time really flies.
What is your blog about.......
I used to blog about everything and anything. The posts right now seem to be about toddler life including eating habits, book explorations, crafts, life experiences, and daily challenges. Product reviews and giveaways also appear on the blog. I try to feature them on weekends.



Why do you blog......

I was looking for an outlet to share what I was learning and experiencing as a mom. There was one specific type of post I planned to write about or vision that I planned to build on. I just wanted to place my thoughts on cyberspace.



What inspires you.....

Sometimes I am inspired by the smallest things. Having a toddler has helped me see things in the world through new eyes. He sees beauty and joy in things like acorns that have fallen off a tree or a small flower he has found in the yard. I know I would have just walked past them if it weren't for him.
Great blog posts and wonderfully written books also inspire me. They tend to cause me to think or ponder about things in whole new ways.



Do you have a bucket list - name a few things on it......


I still have some of the United States to visit. I really hope to visit all 50 of them.
It has been a dream to have a piece I have written become a children's book. I hope that will happen some day.
Must read blogs that you visit daily.......
Muthering Heights
Ostriches Look Funny
Tammy's Two Cents
Jumpin Beans
Two Bears Farm
Jenny Matlock
The Activity Mom
and about 20 others.
Do you have any blogging advice that you would like to share......

Check the blog rolls of the blogs you love to read. I have found wonderful blogs that I now follow by seeing what blogs others love.
It is so important to find a group or community to connect with. It might be SITS (Secret In The Sauce) or a Blog Frog group. You may find your community through memes. I participate in Muffin Tin Monday, Alphabet Thursday, and The Writer's Workshop regularly.

See your blog as a community. When I started to think about my blog as a community, it really helped me to think about how I could support, encourage, reach out, and respond to my readers and followers.

You can read more about Deirdre by checking out her blog at
JDaniel4's Mom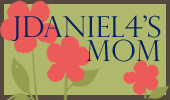 And check out her weekly meme Read Explore Learn (one of my favorite link ups!!). There are some really great art projects for kids using books as themes.

As always, if you would like to learn more about being a "Mom That Blogs", contact me at
jfamilyofeight@hotmail.com