....The Welcome Wednesday Spotlight, that is! How cool to be chosen as a featured blogger on
Take It From Me's
weekly blog hop!! For all those newbies coming to my blog...I'm a stay at home mom of SIX kids ranging in age from 17 - 5. My blog is about my life...and all the crazy things that make it complete. You can check out my recipes, kids crafts or read more about me and my family by clicking on the page tabs at the top of the blog. Hope you'll stick around and keep on reading all about my family's adventures!
And if you'd like you can also "like" my fan page on Facebook or follow me on Networked Blogs....I'll return the follow there as well.
Here's all the details of the blog hop.......
Welcome to the "Welcome Wednesday" blog hop, hosted by Take It From Me! Welcome Wednesday is a great way to meet new people and learn new things as well as increase your blog followers! So let's have some fun!!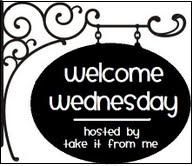 If you want to be a part of Welcome Wednesday, just follow these 5 simple steps:
1. Follow the Welcome Wednesday Host (Take It From Me) as well as the 2 Spotlighted Blogs of the Week. (These will make up the top three slots on the Linky)
2. Link up your blog name and URL with our Linky. (You only need to add your info once for it to be seen on all the blog hops)
3. Grab our Welcome Wednesday button and include it in a post about the event on your blog.
4. Go to as many blogs on the MckLinky as you want and Follow them. Be sure to tell them you are from Welcome Wednesday!
5. Be sure to Follow back any followers you have gained from our Welcome Wednesday event!