Thought this was really cute...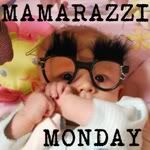 Name one mother out there that doesn't sometimes become obsessed with taking pics of her kids. I think sometimes we see them doing bad, rotten things, sometimes even dangerous things, or funny things and the first thing we think to ourselves is...where's my camera? How many of us keep our cameras in an easy to get to location for all those spontaneous moments? I know I do.
Household 6 Diva
is hosting a meme called "Mamarazzi Mondays" Check out her blog and click on the McLinky to join the fun.
I'm posting some older pics from this summer that I never posted here (except for the two in the sidebar). I was trying to get some fun angles and just generally snapping away, when Nicholas was standing on top of a slide screaming "Mom, take a picture of me up here!" He did that everywhere he went at that playground. I'm sure the other parents thought I was a total nut....but hey, that's how memories are preserved, right?