As a reviewer for EcoMom products I am thrilled to tell you about their new program, the EcoPass. The EcoPass program allows my readers to purchase a $99 annual membership, which provides for a 15% discount on every order, as well as free shipping with No $50 minimum requirement. The EcoPass literally pays for itself in as few as four orders and costs about $8.25 per month!
Hurry though, the deadline is October 31, 2010...here's the discount code you will need to enter, SBBL628
.
EcoMom has many
Eco-friendly Baby Products
, I was surprised by all that they have to offer. I was also excited to see that the product I would be reviewing for EcoMom was Smartypants Gummy Vitamins. I think it's important for kids to take vitamins, but one of the reasons that I loved these so much was the fact that I could take them too, if I wanted. See, since I had hyperthyroidism and the goiter was so huge in my neck (we're talking softball size), I had a hard time swallowing vitamins. I had to buy the chewable kind. Even with the "orange flavoring" they still tasted chalky, so I loved the fact that these were like chewing gummy bears, only they were vitamins instead. Much better tasting. I loved that!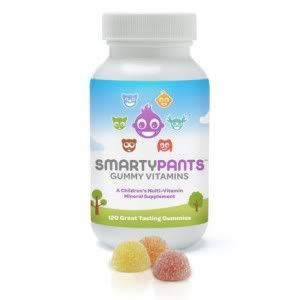 *Disclosure: As a reviewer of EcoMom, I received the Smartypants Gummy Vitamins for review purposes only. I was not compensated in anyway. The opinions herein are my own and were not influenced by Smartypants or EcoMom.
As part of my review, I was also given the opportunity to offer a giveaway on my blog. EcoMom is sponsoring a
$15 gift certificate
to their stores for my readers.
To ENTER the Giveaway: Head over to
EcoMom
and tell me what you would like to purchase with the gift certificate.
For extra entries (worth one entry each):
*Follow EcoMomCEO on Twitter (
twitter.com/EcoMomCEO
)
*Become a fan of EcoMom on Facebook (
facebook.com/ecomom
)
*Sign up for EcoMom's newsletter
*Follow Adventures In Mommy Land
*Like Adventures In Mommy Land on facebook
*Follow Adventures In Mommy Land on Networked Blogs
*Follow me on Twitter (jfamilyofeight)
This giveaway is open to all U.S. and Canada residents. Winner will be chosen using Random.org and will
end October 31 at 12:00 a.m. EST
.