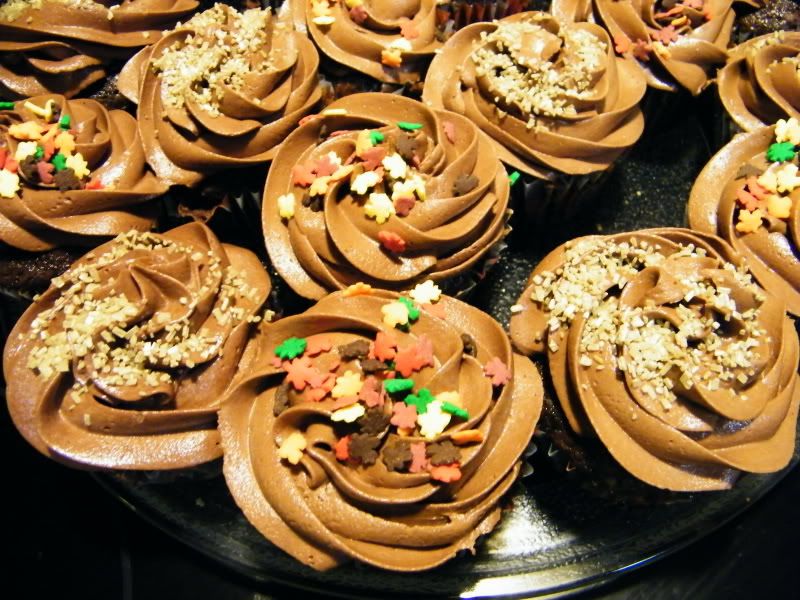 Chocolate Zucchini Cupcakes with Chocolate Buttercream Frosting
Ingredients:
2 cups shredded zucchini
3 eggs
2 cups granulated sugar
3/4 cups cooking oil
2 tsp. vanilla
2 cups of all-purpose flour
2/3 cup unsweetened cocoa powder
1 tsp. baking soda
1 tsp. salt
1/2 tsp. baking powder
3/4 cup milk chocolate chips
Directions:
Preheat the oven to 350*
In a large bowl mix together zucchini, eggs, sugar, oil, and vanilla. Add the dry ingredients: flour cocoa powder, baking soda, salt, baking powder and chocolate pieces. Stir until it is just combined.
Bake for about 35 minutes or until center comes out clean with a toothpick.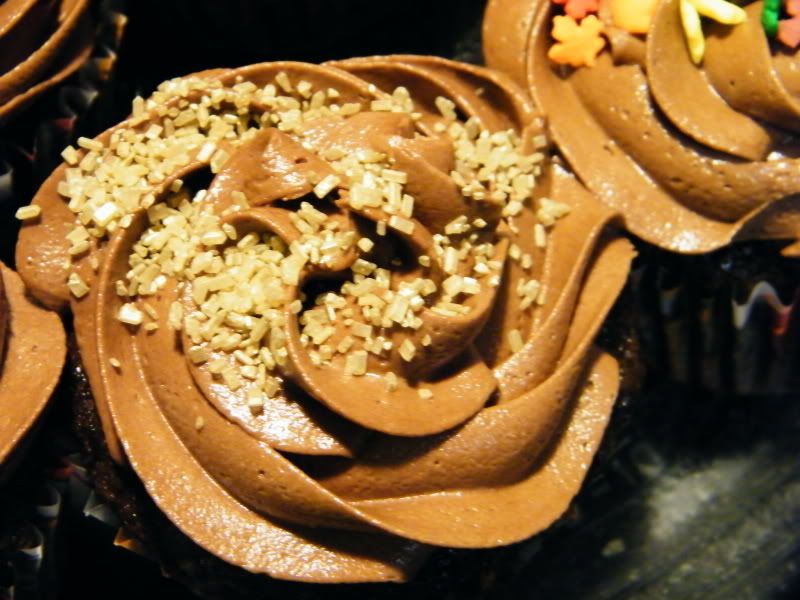 Chocolate Buttercream Frosting (Wilton's)
Ingredients:
1/2 cup solid vegetable shortening
1/2 cup (1 stick) butter or margarine, softened
3/4 cup cocoa or three 1 oz. unsweetened chocolate squares, melted
1 teaspoon clear vanilla extract
4 cups sifted confectioners' sugar (approximately 1 lb.)
3-4 tablespoons milk
Makes: About 3 cups of icing.
Directions:
Stiff Consistency: In large bowl, cream shortening and butter with electric mixer. Add cocoa and vanilla. Gradually add sugar, one cup at a time, beating well on medium speed. Scrape sides and bottom of bowl often. When all sugar has been mixed in, icing will appear dry. Add milk and beat at medium speed until light and fluffy. Keep bowl covered with a damp cloth until ready to use. For best results, keep icing bowl in refrigerator when not in use. Refrigerated in an airtight container, this icing can be stored 2 weeks. Rewhip before using.

Pumpkin-Pecan Chocolate Chunk Cookies with Maple Frosting (Bakerella)
You can find the recipe for these babies on Bakerella's blog
HERE
! Let me tell you, this sounds like a weird combination of ingredients, but man.....were these Dee-Lici-Ous! A definite must try! I couldn't stop eating them.