Wendy Paul, the author of 101 Gourmet Cupcakes in 10 Minutes, posted on her facebook status a week or so ago that she was making
Harvest Pumpkin Cupcakes
. I asked her for the recipe, because I live for pumpkin! She obliged and sent me the link to her recipe.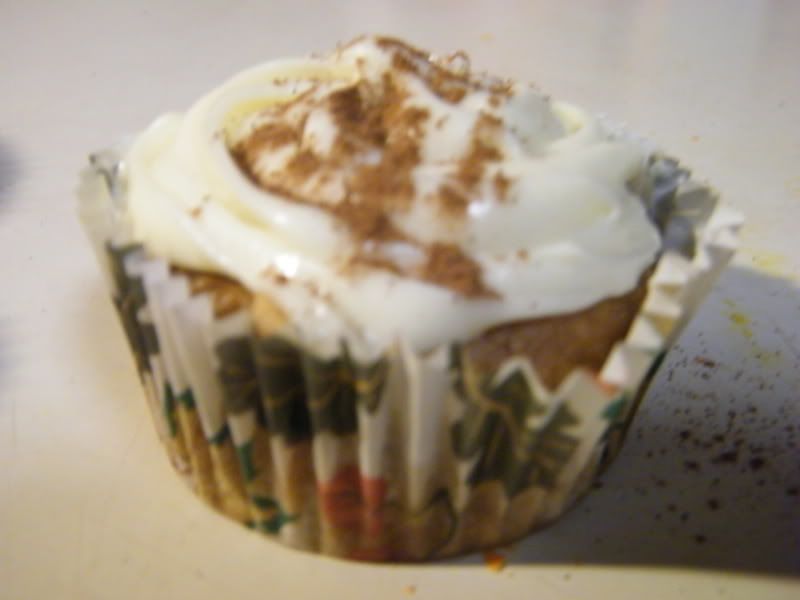 These cupcakes were so yummylicious, I could inhale the whole platter full! In fact, before I even spread the cream cheese frosting (also a recipe of Wendy's), the kids were literally begging me to let them eat some. Nathan helped me bake these and he must have looked at the clock when we started, because when I was done he said..."Mom that was fast, it only took 10 minutes". First of all, I didn't know he could tell time (but, 10 mins did go by), and secondly, I never mentioned where I got the recipe from LOL!
Here's the recipe......
(from 101 Gourmet Cupcakes in 10 Minutes)
1 box spice cake mix
1 cup pumpkin puree
1 teaspoon vanilla extract
2 eggs
½ cup milk
1 cup chocolate chips
1 cup butterscotch chips
Mix together cake mix, eggs, milk, vanilla, pumpkin, chocolate and butterscotch chips. Pour the batter into paper liners, filling ¾ full. Bake at 350 degrees for 15-18 minutes until the cakes are light golden brown. Remove from the oven and cool completely on a wire rack.
*Frosting Suggestions: Chocolate Ganache, Chocolate Buttercream, Cream Cheese or Vanilla Buttercream
8 oz. cream cheese, softened
1/2 cup butter, softened
3 ¾ cups powdered sugar
1 teaspoon vanilla
Beat the cream cheese and butter until smooth and light. Stop the mixer and add sugar, and vanilla extract. Start mixer on slow and gradually increase the speed until frosting is fluffy. Frost and refrigerate. Sprinkle with grated nutmeg for added flavor and presentation.
* I topped mine with cinnamon instead of the nutmeg and they still tasted great.
Aww, look at that poor little cupcake that didn't fit on the platter...
Don't worry, I gave it a good home ;-)