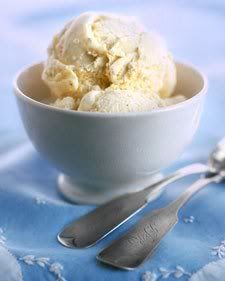 Let me whine for a few minutes, please. Yesterday, I bought three half gallons of ice cream and sadly sometimes if I do ice cream for dessert three containers isn't enough. Anyway, this afternoon as I was getting ready for work, Sarah asked me if she could have ice cream. I told her that everyone can have the chocolate. She then asked if she could have some of the fudge ripple too. I said please just eat the chocolate, because I want some of the other one. She agreed to eat the chocolate.
On my way home from work, all I could think about was getting home, kicking my feet up and eating some ice cream. I know that's so sad, huh?
Walk in the door, take off my shoes and head for the freezer. I knew as soon as I picked up the box that someone had eaten it. And sure enough I was right. There wasn't that much left. Come to find out that indeed they ate all the chocolate ice cream and started in on the fudge ripple. Oh Mannnn!
Why couldn't they just for once, listened? And not have eaten the damn ice cream! Big Sigh...